Know you'll get the VERY BEST Hazardous Materials Training because…
We Train with HazSim!
Continuing education and mandatory hazardous material training can be tedious when you do not have new and interesting material. "Keeping it Real" is a large part of our success. We train with HazSim!
As part of our strategy to keep training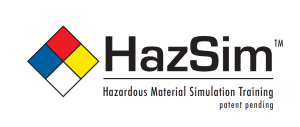 fresh and realistic, HazSim provides realistic interactive, customizable and adjustable chemical spill and hazardous material simulation making hands on training exciting.
We will provide a HazSim device while we conduct your onsite training or if you have an internal training team contact us and order the HazSim device now and you can conduct your very own POP Quiz Simulations to keep your hazardous material handlers sharp!
---
For more information or to order a HazSim device for your own –

contact us

!


To learn more, check out HazSim's website

HERE
Contact us today for your FREE One Hour Consultation!